Our Churchyard is the final resting place for a considerable number of men and women who worked in the glass industry and its allied trades.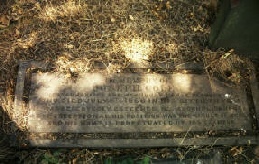 Joseph Cole (1806-1866)
His memorial reads in typical Victorian overstatement
'In Memory of Joseph Cole Stourbridge and Wychbury House Pedmore who died July 8th, 1866 in his Sixtieth Year. He was deservedly esteemed, his accomplishments were exceptional, his position was the result of merit, and his name is perpetuated by his example.'
Edward Deeley (1801 – 1884)
Richard Mountford Deeley (1825 – 1909)
(Commemorated on, but not interred in, the family vault).
Edwin was apprenticed to the Dial Glassworks at the age of twelve years. He became the manager and was made a partner in the firm in 1844. Richard who was Edward's son was apprenticed at the Dial and later became a travelling representative of the firm. The firm made many utility items such as soda water and sauce bottles.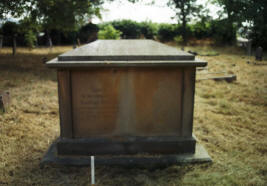 William Evans (Bill) (1911-1993)
Bill was a glass blower at Royal Brierley Crystal for the whole of his working life. He was secretary of the Flint Glassmakers Union, a member and the last Chairman of Amblecote Urban District Council which ceased to exist in 1966.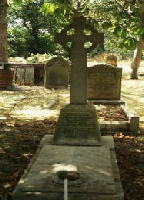 William Fritsche (1853-1924)
William Fritsche arrived in England from Meisterdorf in Bohemia around 1870 and is claimed to be the finest copper wheel engraver ever to have worked in this country. Working for Thomas Webb, he executed traditional style engraving and helped to develop a new style called Rock Crystal. He ran the 'Red Lion' in Brettell Lane where he also lived.
William Greathead (1799-1867)
Born in Louth in Lincolnshire he worked for William Gammon of Aston in Birmingham. He came to work in Dudley in 1839 and went into partnership with Dudley MP Thomas Hawkes in 1841. In 1850 he helped form Davis, Greathead and Green in Brettell Lane a company which exhibited at the Great Exhibition of 1851. In 1853 the firm moved to the Dial Glassworks.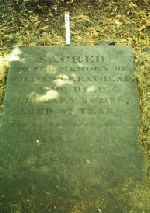 John Guest (1841-1888)
A member of an important family who made furnaces for the glass industry. He had a significant holding in the Platts Glassworks.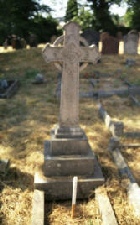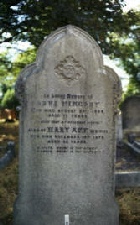 Silas Hingley (1831-1919)
Levi Hingley (1829-1905)
Charles Edward Hingley
Albert Harold Hingley
Here we have a dynasty of Glass makers during the 19th and early 20th Centuries. Levi founded a glass decorating workshop in King William Street, Silas was an apprentice glass maker in Dudley. Jabez, another brother worked for Levi. Levi had two sons, George and Alfred and Silas three sons, William, Charles and Harold and these all became part of the family business which purchased the Albert Glassworks in Wordsley that survived until 1948.
Harry Ernest Kny (1887-1917)
The son of an immigrant Bohemian glassmaker, Frederick Engelbert Kny, his two brothers, William and Ludwig, worked as glass artists with their father. Harry joined the British Army and died of disease in Salonica in November, 1917. He is remembered on the Lych Gate War Memorial.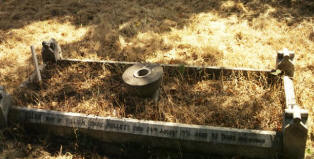 William Mullett (1851-1933)
William assisted Thomas and George Woodhall who were renowned for working with Cameo Glass. In this designs were carved through several layers of coloured glass onto a dark background. The process was painstaking and required great concentration and skill on the part of the artist. It was very expensive to produce even at a time of relative prosperity.
Joseph Webb (1813-1869)
Joseph was from a line of glass makers. He worked on the shop floor with several firms. He went into partnership with his cousin Edward at the Holloway End Glassworks in 1844 and in 1850 he bought the Colbourne Hill Glassworks and while there developed a process for pressed glass where glass is simply pressed into moulds. He registered 21 designs from 1851 to 1885.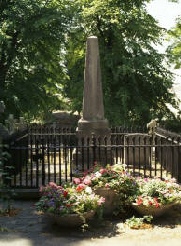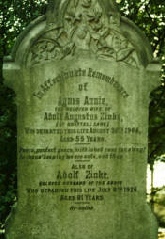 Adolph Zinkie (1845-1926)
He came to Amblecote from Bohemia during the mid part of the 19th Century and then settled permanently, marrying an Englishwoman Ann Humphries in 1866.
Acknowledgement
Some information contained on this page is courtesy of the Amblecote History Society from their leaflet 'Monuments to the Glassmakers - Holy Trinity Amblecote' a revised version of this is
Available here
Go to top